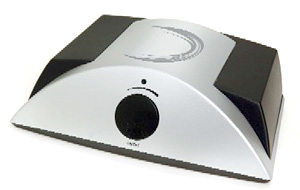 I've been reading all sorts of good things about the Sonic Impact Class T Amp. It's the battery-powered amplifier that fits in the palm of your hand and produces sound that has audiophiles harmonizing with joy. I bought mine for $30 at Amazon.
I agree that the sound is excellent. I've connected my iPod nano to the Sonic and wired up a couple of two-way speakers and was throughly impressed with the output. But I want to cover a few other aspects of the device that aren't as widely discussed.
The Sonic amp takes 8 AA batteries. I loaded mine up with Duracell "Ultra" alkalines. Installing the batteries isn't as easy as I would like. The spring-contacts on the Sonic are too long making it difficult to install the bottom row of AAs. I recommend that you use the best batteries possible, or the optional 12-volt power brick to avoid changing batteries any more than necessary.
With the batteries, the Sonic generates up to 10 watts per channel, which is noticeable better than many other units that typically provide 4 watts per channel. Good batteries, such as the Duracell Ultras should get around 8 hours of play. If you use the optional power adapter, you can get up to 15 watts per channel.
The speakers are attached using traditional speaker wire. The connectors on the Sonic are small and it takes some patience to get the wire in there correctly. I only mention this because many people will use the Sonic as a portable amp, and having either a stereo mini-plug option or even RCA jacks would make it easier to connect the speakers on the go.
You do have a stereo mini-plug jack for input, and the Sonic comes with a connecting cord so you can attach your iPod or other device immediately. I found that keeping the iPod's volume set to 60-70 percent, especially for songs with "lots of punch," kept the Sonic's sound sweet and clear.
I did have some occasional "cutting out" of audio. At first I thought that maybe I had a loose wire that was short-circuting. It sounded like that. But when I readjusted the volume outputs on the iPod and the Sonic, the cutting out would go away.
The Sonic does get warm with extended play. But the heat is dissipated on top, so I didn't worry about setting it directly on wood surfaces. It's actually amazing that it stays as cool as it does considering the output it's generating.
Overall, count me among the legions who consider this a worthy $30 investment. I'm going to try NiMH batteries to see if I can cut down on my alkaline consumption. Will add a comment to this piece after more testing.
Technorati Tags: audio, ipod-compatible, music