This is The Digital Story Podcast #923, Nov. 28, 2023. Today's theme is "An Alternative to Black Friday Gifts." I'm Derrick Story.
Opening Monologue
I'm not against Black Friday or Cyber Monday. But the last thing you probably need from me is another list of sale items and doorbusters. So I'm going to hang a U-turn and take you down a different road. I have this great idea for a gift that doesn't require your credit card, and it's one that could be cherished for years. And I'll tell you all about it on this week's TDS Photography Podcast. I hope you enjoy the show.
Digital Photography Podcast 923
Tune-In Via Your Favorite Podcast App!

---

Apple Podcasts -- Spotify Podcasts -- Stitcher

Podbean Podcasts -- Podbay FM -- Tune In
An Alternative to Black Friday Gifts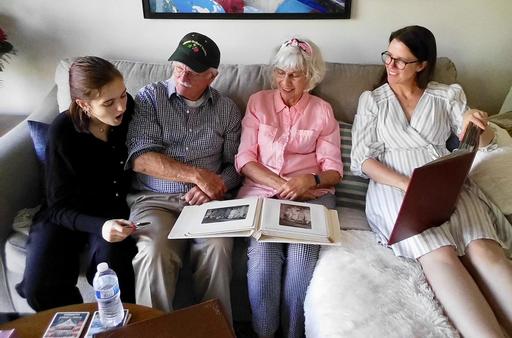 Before we pull out of the garage, let me explain a bit of what I've packed for the trip. You see, we're going to need some pictures. Not just any old snapshot, but images that take us back one, two, even three decades.
After last week's podcast, I'm hoping that you've been thinking a bit about the files you've backed up and how you might be able to retrieve them. If they are not readily accessible because of old hardware or propritary software, you might want to read my article titled, The Rescue Mission. You can read the story for free using this link. I think it might get your problem-solving juices flowing. If you already have access to those archives and friend and family photos from the past, you're ready to begin.
The concept is to cull a batch of family photos and create a keepsake to give as a gift. A common approach is to print those images as 4x6s, then arrange them in an album. This is a good way to go for a single gift.
I would consider special touches however such as "lick & stick" photo corners, and additional memorabilia such as report cards, certificates, and graduation programs to round out the photos.
But what if you want to produce more than one gift with this content? How can you practically do that?
My first suggestion is a hanging calendar with each month a featured photo from your family archives. This also works great for lifelong friends. Imagine the joy produced by a well-designed walk down memory lane. And once it's designed, you can produce as many as you want.
Another approach that I think is really cool, is a set of fine-art greeting cards with great photos from the past featured in the collection. You should include envelopes with the set. But don't be surprised if one or two of the favorites end up in frames.
Speaking of frames, digital photo frames have really improved over the years. You could load it up with an initial set of images, then add a new batch every month. Many of these frames allow you to do this via WiFi.
And finally, I know it sounds corny, but you can make custom commuter mugs and coffee cups with these shots. We have one in our family that's nearly 20 years old, and it still makes me smile every time I see it.
Family photographers are historians as well. And if we combine some of this great content we have in storage, with a little creative output, we can warm a few hearts this holiday season.
The 2024 TDS Photography Workshop Season
You can see all of the workshops and reserve your spot at thenimblephotographer.com
I've just announced six new workshops for next year - 3 online, and 3 in-person on location. All events are open for registration right now. Here's what's going on.
Photo Critique and Building Your Portfolio - Online - Feb. 2024
Spring in Sedona, AZ - In-Person - April 2024
Infrared Photography - Online - June 2024
Inkjet Printing for Photographers - Online - August 2024
Durango, CO and Mesa Verde National Park - In-Person - Oct. 2024
Safari West and Wine Country Experience in Sonoma County - In-Person - Nov. 2024
Reserve Your Spot Today
Most of our workshops currently have open seats. But typically that doesn't last for long. So if you want to join us in 2024, and I hope you do, visit the Nimble Photographer Workshops Page and reserve your spot. I hope to work with you in 2024!
PopPhoto is Dead, Again
You can read the entire story on Petapixel.com
After shuttering in 2017 and reviving in 2021 as an online-only magazine, Popular Photography -- colloquially known as PopPhoto -- has let go its last staff members and is effectively dead once again. The last of PopPhoto's staff has been let go from the publication this month, PetaPixel has learned. While the website is still available to peruse, the most recent story was published several weeks ago (the Black Friday deals story was published well in advance of the popular shopping day). Sources say that no current dedicated staff members are contributing to the site, although some maintenance may be taking place with help from its sister site, Popular Science.
After shutting down in 2017, PopPhoto was revived from the dead in December 2021 by Recurrent Ventures, a digital media company that operates online publications such as Futurism, Popular Mechanics, Dwell, and The Drive, among others.
Recurrent relaunched Popular Photography behind former DPReview editor Dan Bracaglia who left the then Amazon-owned publication to lead the revival.
"This relaunch marks the introduction of a new editorial team, a refreshed design, and more. The new popphoto.com will include regular coverage of smartphone photography and social media, how-to's for all skill levels, cultural commentary, and reviews of new and used cameras and gear--all with an eye towards accessibility and affordability," Recurrent wrote in 2021.
According to social media, Bracaglia remained at PopPhoto for just one year as Recurrent began to rein in its investment in the once-renowned publication. It then operated the site with a bare-bones team that focused on deals and reviews over the next year. The previous commitment to "regular coverage" was pulled back significantly.
At its peak, Popular Photography magazine -- which was owned and operated by the Bonnier Corporation until it was closed the first time (and which now focuses its efforts on fishing, boating, motorsports, and hunting magazines) -- had a circulation of nearly one million. When the physical magazine shut down, that number had fallen to 320,000 according to the most recent media kit at the time.
In related news, Popular Science will no longer publish a printed version of the magazine for the first time in its 151 year history following a series of layoffs that left around five editorial staff members and "a few" others on the commerce team, Axios reports. Recurrent will transition PopSci to a fully digital strategy behind a new CEO -- the third in three years.
The Battle Against AI Imagery: Sony Gets Closer to New Crypto Signature
You can read the entire article on FStoppers.com
As AI imagery becomes more realistic and the barrier to entry for AI image creation gets lower, the need to authenticate whether an image is real or fake is imperative.
While fake imagery has always been an issue in the world of photojournalism, AI imagery and the like have made things drastically worse. Because while manipulating images is one thing, creating images from nothing but a thought and selling them as real is an entirely different story. And this is the problem that Sony aims to solve with its new In-Camera Authenticity Technology.
This technology aims to combat the problem by applying a machine-based digital signature to image files at the point of capture. Because the signature is applied inside the camera, it removes any opportunities for images to be manipulated between capture and delivery.
While this may seem similar to what Leica recently announced with its new M11-P, the difference is that the Leica technology currently uses a dedicated processor for the signature to be applied. The technology that Sony is using is built off current hardware, not only making it easier to implement in future cameras but also making the technology backward compatible with certain older models via firmware updates. So, while the Leica version of authenticity is still a great thing, the Sony version makes everything more accessible, giving it a chance for wider implementation.
Although this technology has not been fully released or finalized, plans are for the Crypto-Signature to be accessible on the new Sony a9 III as well as the older Sony a1 and Sony a7 III via firmware update.
Kodak's new Super 8 film camera is actually coming out
You can read the entire article on TheVerge.com
Kodak is gearing up to actually sell the Super 8 film camera it announced way back at CES 2016. It's updated the camera's product page with a new "sign up to buy" button to allow potential customers to register their interest. Kodak's global managing director for motion picture, Vanessa Bendetti, tells The Verge that the company expects the camera to go on sale in limited quantities in the US on December 4th, before releasing in Canada, the UK, and other European markets.
When it goes on sale, the camera will cost a whopping $5,495. That's not just expensive when you consider that, as 404 Media notes, vintage Super 8 cameras can generally be had for a few hundred bucks -- it's also expensive compared to Kodak's previously announced pricing. When the Super 8 camera was first announced in 2016, Kodak said it hoped to charge between $400 and $750 for it, and by 2018 it had already increased the potential price to between $2,500 and $3,000.
If the idea of shooting on film appeals, and you can stomach the price tag, Kodak is inviting interested customers to sign up to receive more details via this reservation form (which it says you need to fill out even if you're already on the previous reservation list). One final word of warning for anyone who hasn't shot on real film before: 404 Media notes that one $35 Super 8 film cartridge can only shoot roughly two and a half minutes of 24fps footage. Pick your shots carefully.
Virtual Camera Club News
The Nimble Photographer Newsletter is now publishing every Thursday. Readers will enjoy a variety of content spanning from short photo essays, to commentary on weekly events, to reviews of the latest and coolest photo gear.
TDS Workshops! - You can sign up for available workshops by visiting The Nimble Photographer. Inner Circle Members receive a 10-percent discount on all events.
Inner Circle Members: A big thanks to those who support our podcast and our efforts! We are having a blast at our new Inner Circle hangout, the private group I've set up at DerrickStoryOnline. We'd love it if you join us. You can become an Inner Circle Member by signing up at our Patreon site. You will automatically be added to the new hangout.
Great Photography Articles on Live View - If you check out our publication and appreciate what you see, be sure to follow us and clap for those authors. You can find us at medium.com/live-view.
If you're interested in writing for Live View, drop me a line at dstory@gmail.com.
The New Donation Kit for Carefree Shipping of Found Film Cameras - If you've discovered a film camera that's no longer being used, our new Donation Kit makes it easy to pack and ship. Just visit the Contact Form on thenimblephotographer.com, click the box next to Donating a Film Camera, and let me know what you have. In your note, be sure to include your shipping address.
Affiliate Links - The links to some products in this podcast contain an affiliate code that credits The Digital Story for any purchases made from B&H Photo and Amazon via that click-through. Depending on the purchase, we may receive some financial compensation.
Red River Paper - And finally, be sure to visit our friends at Red River Paper for all of your inkjet supply needs.
See you next week!
You can share your thoughts at the TDS Facebook page, where I'll post this story for discussion.