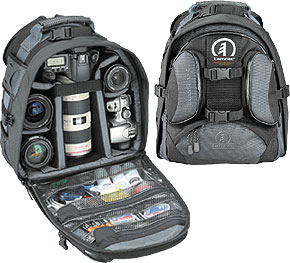 The new Expedition 4 adds outer "wing" pockets for quick access...
I've been using the Tamrac Expedition 3 bag ($49.99 from Porters) for about a year now, and I'm hooked on it. The reason it continues to be my favorite is that it's very nimble (2 pounds, easy to throw over the shoulder or grab by the handle), yet holds my Digital Rebel XT, two lenses, Casio EX P505 digicam, two iPods, cords, filters, extra batteries, Palm LifeDrive, reading glasses, and a few other odds and ends. It's small enough to take in a restaurant and slide between my feet or throw over my shoulders when going for a quick bike ride.
Tamrac recently announced the Expedition 4 ($89.94 from Amazon; Porters doesn't carry it at the moment) that sports a redesigned exterior and more room inside. Are the new features worth the extra $40? Yes and no.
As you study the bag on the Tamrac site, you'll see that they improved the harness system to provide more stability during extreme activities. I think this is worthwhile if you're an extreme shooter. But for me, it means extra cross strap getting in my way when I'm bouncing around town. So this isn't a plus for this non-extreme photographer.
I do like, however, the new front "wing accessory" pockets that enable you to quickly access memory cards, batteries, phone, iPod, etc. without having to open the bag itself. The interior of the bag seems to be the same design as the Expedition 3, which is fine with me. It is however, bigger than the Expedition 3 (and you should note the overall bag weighs more too).
My buying advice is to score the Expedition 3 from Porters for $49.99, that is, if you can live without the extra storage space inside and the really cool wing accessory pockets on the outside -- but for $40 more and more weight to carry.
Technorati Tags: camera, equipment, photography, product review