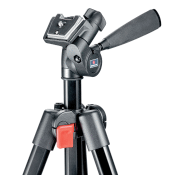 This is the time of year when outdoor conditions are challenging, and there's usually less light for shooting. In other words, it's tripod weather. But I don't always want to lug around my heavy Bogen 3021 for a mere casual hike. Photography is supposed to be fun. That's when I'm glad I have Manfrotto's 718b Compact tripod with pan and tilt head.
Not only are these sticks light (3.1 lbs with head), but they provide enough height for most shooting situations -- 55" with center column collapsed, 65.5" with center column extended. The Manfrotto is constructed of black anodized aluminum and will support cameras up to 5.5 lbs.
I like the "easy flip" locks for the center column and legs. This approach is a blessing in cold weather. The 3-way head includes a quick release plate for quick camera mounting, and you can buy extra plates making camera switching a snap. The 718b even includes rucksack-styled carry bag for easy toting. But, if you're using the Tamrac Expedition 3 or Expedition 4 compact camera backpacks, the Manfrotto will strap on the outside of the backpack nicely. Don't forget the Lowepro photo gloves for added comfort while handling the aluminum tripod in cold weather.
You can purchase the Manfrotto 718b online for for about $95. It feels well-built, so I'm confident it will serve your well for years to come.
Technorati Tags: camera, equipment, photography, product review