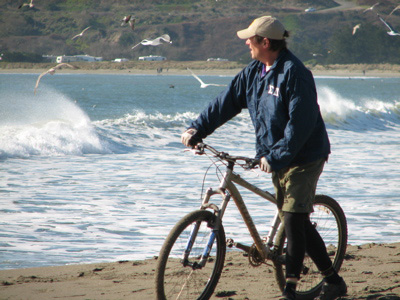 "This wonderfully brilliant January morning along the Sonoma Coast brought out the usual suspects - surfers, bodyboarders, beachcombers, families, dogs," said Francine Kunkel.
"And this gentleman! Notice the wetsuit under his shorts. He appeared suddenly and walked with determination and a constant eye on the rolling surf. I watched him walk his bike along the shoreline and disappear into the distance. I am not sure if this was his mode of transportation or if he planned to take the bike in the ocean."
Shot with a Canon PowerShot S2 IS on program mode (f4.0 @ 1/600, 72mm).
If you have an interesting candid you'd like to share, take a look at our Submissions page, then send us your Grab Shot. If we publish it, you'll receive an ultra cool custom carabineer keychain.
Technorati Tags: candid, digital photography