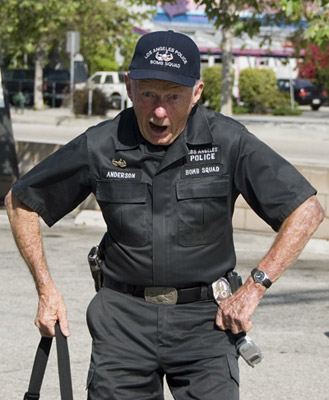 Jennifer Tofani spotted this guard one morning while traveling in India. " I was fascinated by his pose and the relaxed stance of his slender form," said Jen. "He moved a second latter so I didn't get a chance to work the scene further."
This brings up a good shooting tip. When you spot an interesting subject, take the shot immediately, even if it isn't the perfect composition. Then, once you get the first shot, you can work the scene more if the subject allows you to. Often, everything will change before you get the opportunity to take another frame, as in this case with Jen's shot. Fortunately for her, the first shot is terrific!
Camera data: Nikon D70, File Format Shot: RAW (I am really hooked on RAW,so many great options!), 1/80s at f/8, Shutter Priority, ISO: 200, Focal Length -- 70mm, Lens -- 18.0 - 70.0 mm f/3.5-4.5.
If you have an interesting candid you'd like to share, take a look at our Submissions page, then send us your Grab Shot. If we publish it, you'll receive an ultra cool custom carabineer keychain.
Technorati Tags: candid, digital photography