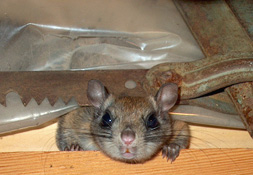 "We were staying at my brother and sister-in-laws cottage fast asleep. My oldest son woke us up about 3am saying there was a creature running around," said Rob Ternowski. "After chasing it, the 'creature' was spotted behind some plastic in a unfinished wall. It turned out to be this squirrel that we nick named Peanut."
"Peanut was caught in a live trap the next night. Seems he could not resist the allure of the peanut butter! He was released but was back again. Come to find out, my brother in law had been feeding him for a while now and had not told his wife..."
This picture was taken with a HP 618.
If you have an interesting candid you'd like to share, take a look at our Submissions page, then send us your Grab Shot. If we publish it, you'll receive an ultra cool custom carabineer keychain.
Technorati Tags: candid, digital photography