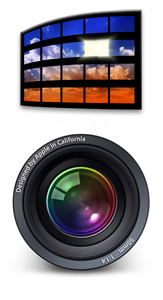 What happens when you get three gregarious photographers together for chat about the state of digital photography including some of its most popular tools? Harris Fogel dares to enter these waters as he interviews authors Peter Krogh, Derrick Story, and Mikkel Aaland -- all at the same time in San Francisco.
You can listen for yourself by visiting Mac Edition Radio and firing up this 20-minute interview. You can enjoy it right there in your browser, or download the piece and put it on your iPod. Either way, I'm sure you're going to like this conversation.
Just in case you're not familiar with these authors, Peter Krogh wrote the The DAM Book: Digital Asset Management for Photographers, Mikkel Aaland wrote Photoshop CS2 Raw, and Derrick Story's latest books are iPhoto 6: The Missing Manual and the Digital Photography Pocket Guide, 3rd Ed.
Technorati Tags: digital photography, podcast