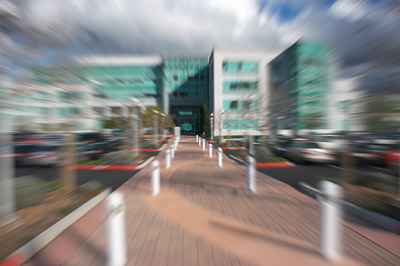 If you're in the mood for a little photo amusement, give BeLight's Image Tricks a spin. This Universal Binary application (that's absolutely free) works on both PowerPC and Intel-based Macs running OS X. It taps the power of Core Image to arm you with an array of special effects for your photos.
I applied the "zoom blur" effect to this image capture in Silicon Valley. The effect transformed a pleasant, but not exceptional photo, into something far more dynamic. I could have selected from any number of transformations, including bump distortion, circular splash, glass distortion, and more. Plus I have nuts and bolts adjustments such as unsharp mask, exposure, gamma, hue, white point, monochrome, and others. There's even a nifty cropping tool and image resizer.
If all of that isn't enough, I can also use the image generator to create my own patterns for backgrounds and textures. Some of the most interesting ones require an upgrade to the Pro version, but that's still only $9.95.
Image Tricks is a terrific tool for creating new looks for your old pictures. Yes, you can use it as a standard image editor, but its real charm is how it encourages the child that just wants to play.
Technorati Tags: digital photography, product review