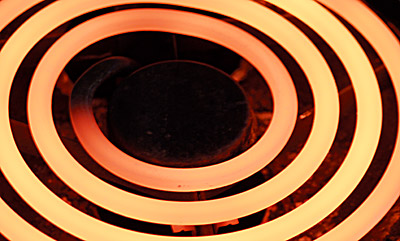 "This shot of my clunky electric stove top (just outta photo school -- I can't afford a nice gas one yet) was shot with my D200 and my old manual nikon 70-150mm series E zoom (yes it actaully meters on the D200)" said Rob Sackyta. "The exposure was a whopping 15 seconds @ f-5.6 in RAW, and surprisingly, not a whole lot of noise.
"I used Nikon Capture 4 tethered to My Macbook Pro, so I wouldn't pass out from the heat, as I actually had all four coils going at once. Capture runs pretty slow on the Intel side, but it still has great advantages, especially when shooting product shots."
If you have an interesting candid you'd like to share, take a look at our Submissions page, then send us your Grab Shot. If we publish it, you'll receive an ultra cool custom carabineer keychain.
Technorati Tags: candid, digital photography