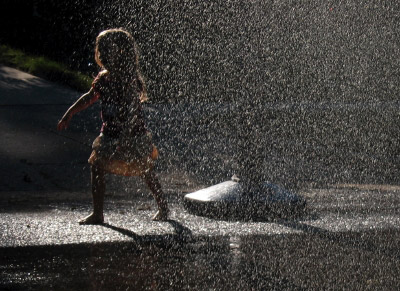 "I love your idea of grab shots," said Matthew Kuperus Heun. "I, too, like photographing what I see around me. One of my photography goals is to never disturb what I'm shooting, whether is people, landscape, animals, whatever. While I do few posed portraits, I'm constantly challenging myself to improve my photographer's eye."
"The attached photo is my submission for a Grab Shot. I had my little Canon A75 point and shoot with me during our block party last week. The fire department was doing a demonstration for the kids, letting them control the hoses. To cool off, the kids were playing in the spray. I walked around for a shot backlit by the evening sun streaming between two houses, just as my neighbor was walking out of the spray. I love the effect!"
One of the things that I want to point out here is that Matt walked around the subject to find this great angle. I discussed this and other techniques in my "10 Tips for Great Field Photography". By doing so, you'll often find an even better composition, as demonstrated here by Matt.
If you have an interesting candid you'd like to share, take a look at our Submissions page, then send us your Grab Shot. If we publish it, you'll receive an ultra cool custom carabineer keychain.
Technorati Tags: candid, digital photography, grab shot, The Digital Story