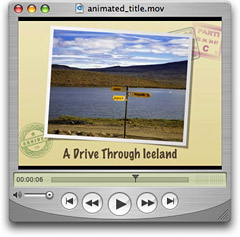 You can put your great looking slideshow titles in motion without ever leaving iPhoto. In a previous post, I explained how to use the Greeting Card function in iPhoto 6 to generate compelling title slides. You can take these images to the next level by animating them.
Start by making a copy of your title slide and placing the two identical images side by side at the beginning of your iPhoto slideshow. Then apply the Ken Burns effect to the first slide. For the "Start" point, zoom in a little (using the Zoom slider setting located at the lower right of the frame). The set the "End" point of the effect to show the slide at 100 percent (no magnification).
Open the "Adjust" panel and set the slide appearance length to 6 seconds or so with no transition. Now go to the second slide and set its length to 2 seconds with a Dissolve transition. You won't use the Ken Burns effect for this image. Now click once on your first slide and hit the Preview button to see the effect.
I've posted an example so you can see the effect in action. You can play with the settings to create exactly the look you want. It's a professional way to start your slideshow that's so easy to create in iPhoto.
See It in Person
If you're in Northern California on the weekend of October 7, stop by the Macintosh Computer Expo and sit in on my iPhoto 6 Tips and Tricks session. It's free, and I'll show you this tip plus lots of other cool iPhoto goodies. For those who really want to dig into some shooting techniques, stick around another day and sign up for my Digital Photography Made Amazing half day workshop on Oct. 8. But sign up early because seating is limited.
Technorati Tags: digital photography, software, The Digital Story, iPhoto