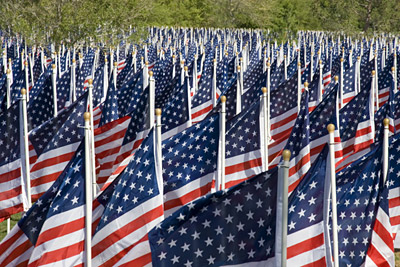 "Five years ago, my youngest son and I were in Washington state on vacation" said Kevin Miller. "We received a call early in the morning from a friend back home in Las Vegas regarding the attack on the Twin Towers."
"To remember the events of five years ago, a local mortuary set up a memorial here in Las Vegas. A flag was posted for each victim from September 11, 2001. Accompanying each flag was a small plaque with the victim's name and in many cases, personal information is given as well."
"For those of us who are visual, to see a flag for each of the nearly 3,000 victims of the 9/11 attack is very impressive."
Photo taken with Canon 30D, Canon 24-105mm f4.0 L series lens set at 105mm. Exposure was f11.0 at 1/200 second with -.67 exposure compensation using aperture priority at ISO 100. Shot in RAW, processed in CS2.
If you have an interesting candid you'd like to share, take a look at our Submissions page, then send us your Grab Shot. If we publish it, you'll receive an ultra cool custom carabineer keychain.
Technorati Tags: candid, digital photography, grab shot, The Digital Story