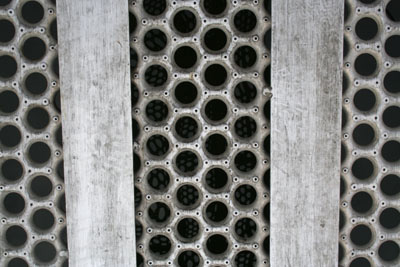 "I'm drawn to texture wherever I travel," said Jane Lang. "This shot was taken at the Rockport harbor in Maine. The situation started out less than pleasant. The keys got locked in the car, and while we were waiting for the key savior to arrive, I roamed off with my trusty Canon Rebel XT and came upon this groovy metal ramp leading down (low tide) to a dock. I was struck by the geometric form and its unexpected presence in this haven of natural beauty."
Jane used a Canon Rebel XT set to 1/250th at f-13. ISO 400 and focal length at 34mm.
If you have an interesting candid you'd like to share, take a look at our Submissions page, then send us your Grab Shot. If we publish it, you'll receive an ultra cool custom carabineer keychain.
Technorati Tags: candid, digital photography, grab shot, The Digital Story