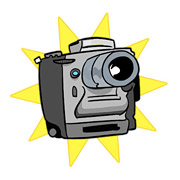 Here's a trick that only requires a 1/4" bolt and some sturdy string. The result? A super portable tripod that helps you steady your camera up to 2-f/stops of light or more! Call it a poor man's image stabilizer.
First, take a sturdy length of string and create a loop at one end big enough to slide your foot into. Then determine the length your need to hold the camera up to your eye. Attach the 1/4" bolt to the other end of the string at the proper length. You're now ready to shoot.
Slide your foot through the loop, attach the bolt to the camera's tripod mount socket, and pull the camera upward until the string is taut. You'll be amazed at how steady you can hold the camera as you gently squeeze off a shot.
Normal acceptable handheld shutter speeds are 1/30th of a second. With the string tripod, you should be able to shoot all the way down to 1/8th of a second. Give it a try!
Technorati Tags: digital photography, tips, The Digital Story