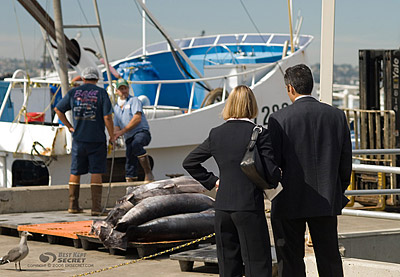 "The juxtaposition of the two sets of people struck me as a photo op," said Landon Michaelson. "White collar and blue collar. The bird added the final touch."
"The couple stopped here briefly, as did I, then the moment was gone."
Landon used a Nikon D200 with a 85mm 1.8 at f/4, and a polarizer and ND filter to keep shutter speeds in check in the bright sunlight, as he was shooting wide open for awhile. The shutter speed was 1/50 second. Landon thought f/2 was too shallow and would lose the fishermen, so he switched to f/4 and grabbed this shot. You can see more of Landon's work at Best Kept Secret Photography.
If you have a candid you'd like to share, take a look at our Submissions page, then send us your Grab Shot. If we publish it, you'll receive an ultra cool custom carabineer keychain.
Technorati Tags: candid, digital photography, grab shot, The Digital Story