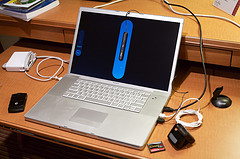 "As important as it is, I know lots of people that are serious about their images that don't profile their display. And I think there are two reasons for this: 1) Color management is a complex field, and it's full of lots of big terms and complex numbers; and 2) Good profiling hardware has typically been expensive. It's been coming down in price over time, but still, to get the good stuff hasn't been cheap. Combine these two points and most people, it seems, do nothing," says James Duncan Davidson in his article, Color Management is Essential.
The good news is that James goes on in his article to show you both an affordable and easy way to color manage your computer. It's definitely worth a read.
Technorati Tags: digital photography, The Digital Story
---
Sponsor Note...
Add Magic to Your Slideshows -- FotoMagico presentations are so amazing that your audience will be asking how you did it.