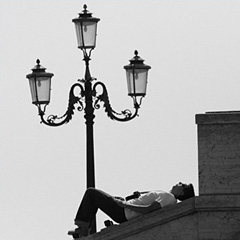 "I captured this grab shot on a trip we took last September to Italy," said Nicole Wijnands. "We were in Venice just sitting down for a break. I looked back at the bridge and saw this guy relaxing in the sun. I knew I had to get the shot! I quickly got out my camera with the telezoom attached and got it."
Nicole's Canon 350D was set to ISO 800 (she just got out of a museum), 1/4000 at f/10, focal length 200mm on Canon EF 75-300mm F/4-5.6 USM III
If you have a candid you'd like to share, take a look at our Submissions page, then send us your Grab Shot. If we publish it, you'll receive an ultra cool custom carabineer keychain.
Technorati Tags: candid, digital photography, grab shot, The Digital Story