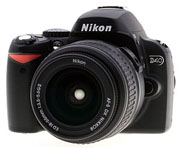 What can you say about a full-featured 6MP DSLR for less than $600 US... with lens? Well, the folks over at Imaging Resource have lots to say, and they put it all in their latest review of the Nikon D40.
"Intermediate photographers wanting a camera to start a business on a budget should look to the Nikon D80 or Canon 30D, as these are more suited for professional photography. Those who already own a bagful of Nikon glass should also look to the D50, D70s (before they disappear), or D80, because you want to use that fine Nikkor equipment as long as you can. But if you're just getting started in SLR photography and want a light, sweet, competent, and simultaneously friendly digital SLR, the Nikon D40 is a superb choice."
Solid Nikon quality at a very affordable price... If you haven't made the DSLR jump yet, this is a camera worth looking at.
Technorati Tags: review, The Digital Story