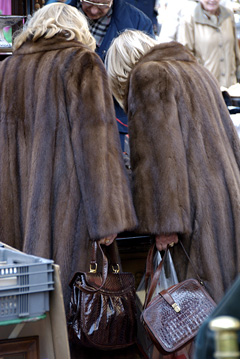 Cruelles de Ville: "Septegenarians peruse antiques in the market at the Cour Soleya, Nice," says Simon Saunders. "The furs, diamonds and crocodile- and snake-skin accessories are real, as is the blonde hair (although even that may not be their own). I followed these ladies and hid behind an arrangement of clothes to catch them with my Nikon 18-200mm."
"The image screams luxury, and decadance, although what it doesn't convey completely is the warmth of the day; temperatures on the French Riviera in January can reach the high 60s, which is why it's such a popular destination for the wealthy and especially the elderly. So the thick furs are entirely, as they say in those parts, de trop!"
"They are handling crucifixes, I discover later. One points a taloned finger to a selection shown them by the marketeer."
Combien? "How much?"
"This one?" he replies.
Non - touts. "No - all of them."
Technorati Tags: candid, digital photography, grab shot, The Digital Story
---
Sponsor Note...
You're Not Ken Burns -- But FotoMagico slideshows are so good that people will believe that he helped you.