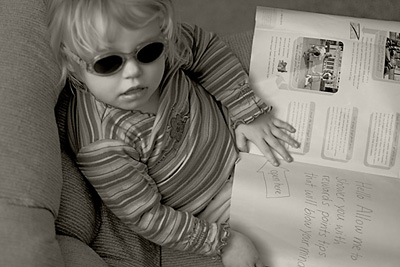 "I recently purchased a Canon Rebel XTi (Merry Christmas to me!)," said Eric Simon, "but owing to the horrible weather here in Denver, I haven''t had much of a chance to get outside and take pictures (and man am I itching to take pictures!). As a compromise, I've been bugging my family by taking pictures of them engaged in various activities (... they're itching for me to get outside too!) This picture is of my two-year-old daughter, Makenzie, reading a magazine."
"Her mom usually wears her glasses at night, and our daughter has picked up on this fact. Since she obviously doesn't have prescription glasses to wear, she often puts on her sunglasses to mimick her mom reading. The magazine she is perusing is an issue of Time magazine. She is sitting in her little brown arm chair."
Eric used a Canon Rebel XTi equipped with a Canon 50/1.8 Mk II lens, wide open at ISO 800 using aperture priority and no flash. He converted the shot to black and white in Photoshop 7.
Technorati Tags: candid, digital photography, grab shot, The Digital Story
---
Sponsor Note...
You're Not Ken Burns -- But FotoMagico slideshows are so good that people will believe that he helped you.