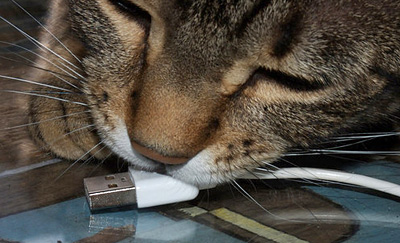 "Here's my cat having some fun with the USB end of my iPod cable," said Joe Rodricks. "This was taken with my Nikon D50 at f/22.0 with an exposure of 1/60 and a focal length of 80mm in direct sunlight. The cat is on an old wood sign that was turned into a coffee table with a thin sheet of Plexiglas on top, thus the reflection, which made the whole picture very bright."
"While the cat chewing on the cord was impromptu, this was the result of my experimenting with such a bright setting. I'm pretty happy with the results, my iPod cable, not so much."
If you have a candid you'd like to share, take a look at our Submissions page, then send us your Grab Shot. If we publish it, you'll receive an ultra cool custom carabineer keychain.
Technorati Tags: candid, digital photography, grab shot, The Digital Story
---
Sponsor Note...
Add Magic to Your Slideshows -- FotoMagico presentations are so amazing that your audience will be asking how you did it.