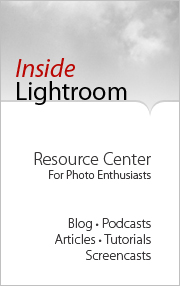 With the upcoming release of Adobe Photoshop Lightroom 1.0, lots of new users will have questions about how best to use the application and get up to speed quickly. Fortunately, Inside Lightroom just launched to meet those very needs.
On Inside Lightroom, you can absorb tips from power users on the daily blog, download tutorials, listen to podcasts, watch instructive screencasts, and peruse a variety of links to other Lightroom resources. One of the bloggers, Mikkel Aaland, was the organizer of the Lightroom Adventure: Destination Iceland, and is writing a book covering post production tips used by professional on location in Iceland. He'll be sharing lots of insights on Inside Lightroom.
And if you want to contribute to the site, just click on the mail link at the top of the page and state your case.
Technorati Tags: digital photography, The Digital Story