Adobe released version 1.1 of Lightroom today, and it includes lots of new features. My favorite, and probably the overall crowd pleaser, is Catalogs. Basically, this functionality enables you to create entirely new Lightroom libraries (even though they are calling them catalogs), then switch among them as needed.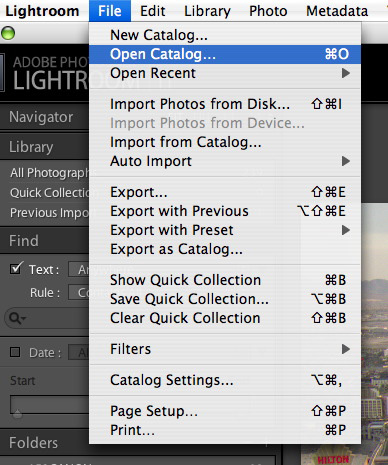 Choose File > Open Catalog... to change catalogs.
I keep a basic catalog on my MacBook Pro internal hard drive, but I have larger, more extensive catalogs on external drives. If I want to switch, all I have to do is use the File > Open Catalog command, and Lightroom takes me to a dialog box where I can navigate to the catalog of my choice. I have to then relaunch Lightroom, and presto, I'm looking at a whole new set of images. it works very well.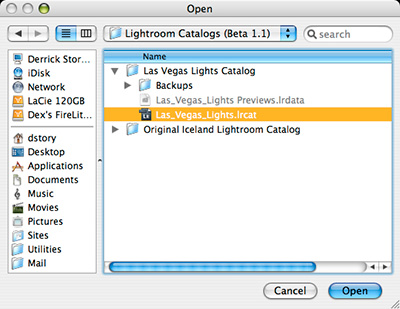 Then just select the catalog file you want to access, and relaunch Lightroom.
My photographer friend, Mikkel Aaland has published a nice overview of his favorite new features over on Inside Lightroom titled, What I Like About Lightroom 1.1. Also, his book editor, Colleen Wheeler, has posted, Photoshop Lightroom Adventure Book Covers Lightroom 1.1. This is a book near and dear to my heart since I joined Mikkel on the Adventure, and I have images in the book that's soon to be released.
I'll be talking lots more about Lightroom 1.1, but in the meantime, if you already own Lightroom, go download it... 1.1 is a free update.
Technorati Tags: digital photography, The Digital Story