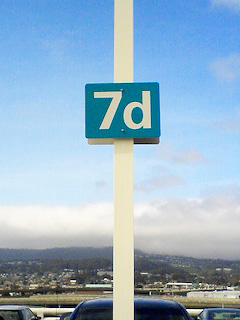 Way back when I was working on the Digital Photography Hacks book, I came up with my favorite use for a camera phone: Use it to take pictures of parking locations in big garages so I wouldn't forget where I left my car. This became particularly useful when I found myself in a long term parking garage after being out of town for a week or more. Where the heck did I park?! All I'd have to do is check my camera phone and, there would be a picture of location I had forgotton. Shown here is a shot from the San Francisco Airport long term parking facility.
Over time, however, I began to appreciate these images as interesting pictures too, and I enjoyed browsing through them on my phone when I had time to kill (such as being stuck on an airport tarmac waiting to fly out). I stopped deleting the shots from my camera phone and began saving them in an Aperture photo library.
Then it dawned on me, that by encouraging others to use their camera phones to take pictures of their parking spots, I could help people find their cars and get some interesting shots from all over the world as part of the bargain.
How to Participate
Would you like to participate? All you have to do is start taking photos of your parking locations, then log on to the Park by the Numbers gallery, and click on the "Upload" icon to add your images to the collection. Be sure to add the location in the title, and please add your copyright to the body of the post.
You can also upload images directly from your cameraphone by using this email address: dstory-813z@gallery.mac.com. The "Subject" line of your email will be the title of the photo, so put the location in the subject line. Add your copyright information to the body of the email, below the photo. Then just send, and the image will be added to the gallery with all of your info.
I hope you share images from the parking spots in your corner of the world -- this will be great fun.
Visit the Park by the Numbers Gallery.
Technorati Tags: digital photography, The Digital Story