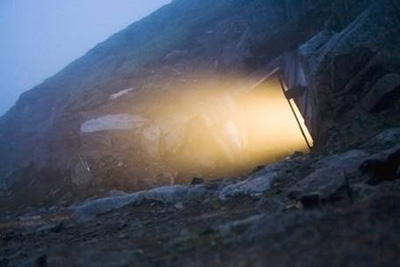 "Some friends and I were celebrating the 4th of July by exploring an abandoned gold mine here in Alaska," said Erik Halfacre. "The last man was a ways behind us and was carrying a 2 million candlepower spotlight. As I looked over my shoulder after exiting the mine I saw the way the light was illuminating the dense fog, so I set my camera down on the ground in shutter priority mode with the speed set to about 2 seconds and got this shot."
And you nailed it nicely, Erik. Shutter priority mode is handy for these types of shots. You can learn more about it by checking out Podcast 87, Aperture and Shutter Priority.
If you have a candid you'd like to share, take a look at our Submissions page, then send us your Grab Shot. If we publish it, you'll receive an ultra cool custom carabineer keychain.
And you can view more images from our virtual camera club in the Member Photo Gallery.
Technorati Tags: candid, digital photography, grab shot, The Digital Story