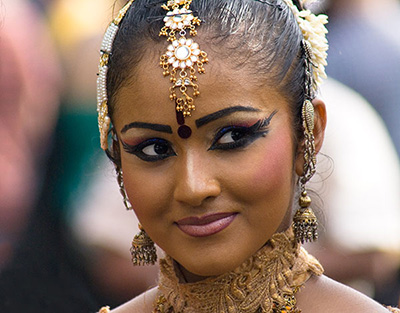 "Berlin is Germany's largest melting pot, a place that became home to people from all over the world," says Jan Bölsche. "Each year in May, the city celebrates its cultural variety with the "Karneval der Kulturen" (Carnival of Cultures), which takes place in the streets of Kreuzberg, the district with the largest percentage of non-german inhabitants."
"I managed to grab this shot using a 450mm equivalent tele lens in aperture priority mode. Having mounted such a long lens on my Sony Alpha 100 got me in trouble a few seconds later though, when a couple of beautiful dancers right in front of me invited me to take their photo being all smiles. All I could do was to shrug in regret and let the moment slip away."
Jan set his A100 to ISO 400. The shutter/aperture settings were 1/500th at f-6.3 with pattern metering mode. No flash.
If you have a candid you'd like to share, take a look at our Submissions page, then send us your Grab Shot. If we publish it, you'll receive an ultra cool custom carabineer keychain.
And you can view more images from our virtual camera club in the Member Photo Gallery.
Technorati Tags: candid, digital photography, grab shot, The Digital Story