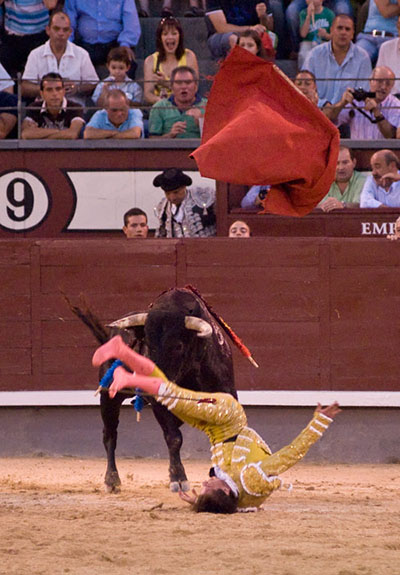 "This image is from a series of shots taken in Madrid during a July '07 Novillada, a bullfight involving young and less experienced bullfighters, also called Novillos," said Michel Bricteux. "This is part of their training to become real Toreros. The Novillo, captured here in a moment of extreme levitation under the incredulous bull's stare, actually recovered from his pirouette, got back on his feet and, proud as he was, continued the fight until the end, winning the public's acclamation.
As a passionate amateur photographer living in Spain, I found bullfighting an extremely graphic subject, where ancient tradition mixes with colors, shapes, and movement.
Michel used a Nikon D200 with a 80-200mm f/2.8 lens.
If you have a candid you'd like to share, take a look at our Submissions page, then send us your Grab Shot. If we publish it, you'll receive an ultra cool custom carabineer keychain.
And you can view more images from our virtual camera club in the Member Photo Gallery.

Events! See the TDS Event Calendar for photography workshops, speaking engagements, and trade show appearances.
---
Technorati Tags: candid, digital photography, grab shot, The Digital Story