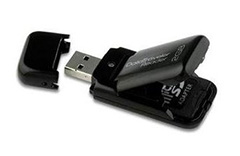 The Kingston DataTraveler Reader is about the size of a Bic lighter, but is a lot more fun. With its USB 2.0 connector, it can quickly transfer data from SD, SDHC, MMC, and MMCplus cards in the blink of an eye. With the appropriate adapters, the DataTraveler can also handle miniSD, microSD, RS-MMC, MMCmobile, and MMCmicro.
I've been using the DataTraveler to transfer images from SanDisk 4GB SDHC cards. It became my "go to" card reader when I discovered that my previous reader couldn't handle the new SDHC format.
When you insert the SD card into the DataTraveler, then plug it into a USB port, two drive icons appear on the desktop. One is for the memory card and the other is 2 GBs of free memory available on the reader itself. This extra memory is a great place to back up your pictures once you've transferred them to your computer. You can also store other data on the card such as documents and music. When you want to eject the reader, be sure to remove both drive icons before pulling the reader from the USB port.
The DataTraveler also includes a green LED to show operational status and a short lanyard so the device can be used as a key ring. The 2GB model sells for about $42 US on Amazon. It's fast, compact, and accepts the latest memory cards, including SDHC -- and the 2GBs of onboard memory is a real bonus.

Events! See the TDS Event Calendar for photography workshops, speaking engagements, and trade show appearances.
---
Technorati Tags: digital photography, product review, The Digital Story