How long has it been since you've checked for updates for your printer? I've noticed that the major printer manufacturers (Epson, HP, Canon) have been doing a pretty good job of posting revisions for both firmware and new ICC profiles for paper. What fun!
I just finished downloading a new firmware update for the Canon IPF5000, and even better, new printer profiles, created with X-Rite's ProfileMaker 5 for 10 different Canon papers.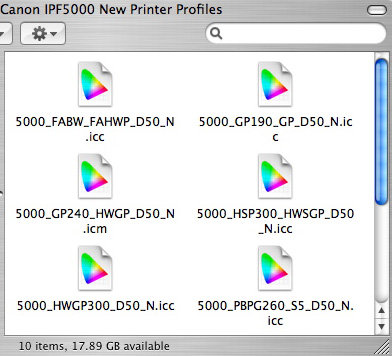 Chances are you're not using this printer, but my point is that new stuff is released all the time for older printers. And this becomes even more important if you're contemplating an OS upgrade (Vista or Leopard). Typically, one of the biggest frustrations after an OS upgrade is a printing glitch. So a little planning can potentially save you a lot of headache.
Technorati Tags: ICC Profiles, software, The Digital Story, Canon IPF5000, Printer