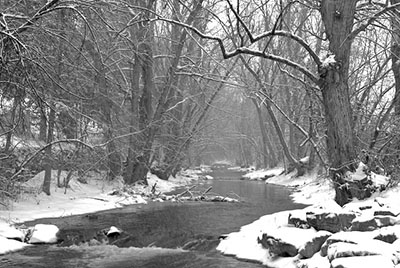 "This is a shot of Boulder Creek in Boulder, Colorado during a recent snowstorm," said Mark Castleman. "There was hardly any color in the scene to begin with, so converting it to black & white actually brought out the image better. I bracketed the shot from 0ev to +2ev in 0.5ev increments to compensate for the snow throwing off the exposure and +1.0 seemed to look best to me."
Mark used a Pentax K10D, Pentax 18-55mm lens, 1/30. f/9.5, +1.0ev, ISO 100, converted to black & white in Aperture.
If you have a candid you'd like to share, take a look at our Submissions page, then send us your Grab Shot. If we publish it, you'll receive an ultra cool custom carabineer keychain.
And you can view more images from our virtual camera club in the Member Photo Gallery.

Events! See the TDS Event Calendar for photography workshops, speaking engagements, and trade show appearances.
---
Technorati Tags: candid, grab shot, The Digital Story