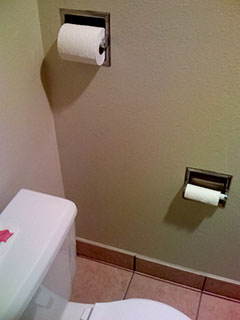 OK, here's one I can't quite figure out. While traveling back from Southern California on a recent road trip, I encountered this bathroom with not one, but two toilet paper dispensers. One roll was positioned high (about elbow height when standing) and the other the normal low position next to the toilet seat.
I have my theories about this arrangement... but I'll just keep them to myself.
I captured this high/low arrangement with an Apple iPhone under existing light. I could have gone out to the car for my DSLR... but, well, that would have been just too weird.
Photo by Derrick Story
If you want to see one of the reasons why I was driving around in the first place, take a look at this pyrotechnic plane.
If you have a candid you'd like to share, take a look at our Submissions page, then send us your Grab Shot. If we publish it, you'll receive an ultra cool custom carabineer keychain.
And you can view more images from our virtual camera club in the Member Photo Gallery.

Events! See the TDS Event Calendar for photography workshops, speaking engagements, and trade show appearances.
---
Technorati Tags: candid, digital photography, grab shot, The Digital Story