Here's a new feature for The Digital Story: "How I Did It." These are techniques from virtual camera club members who have built upon information in The Digital Photography Companion, or came up with a new tip altogether.
The "How I Did It" tips will appear on The Digital Photography Companion mini-site, so we can build a living library of knowledge for everyone to use (and contribute to). If you have a "How I Did It" tip to share, just send it to me with the sample photo, and put "How I Did It" in the email subject.
This week's "How I Did It" is from Hans Stolz. Hans attended my Five Shooting Techniques to Make Your Pictures Look Better than Everyone Else's at Macworld SF (which was based on content from Digital Photography Companion). He liked the "Shoot at Night and Twilight" tip, and gave it a try from his hotel room in San Francisco. Here's what Hans had to say.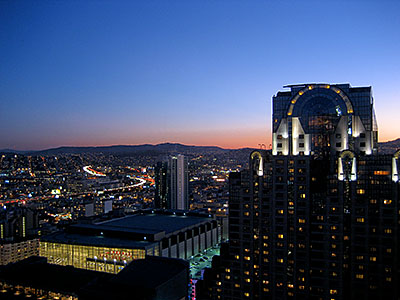 "I own a Canon 10D and a Canon IXUS 65 camera," says Hans. "The photo, however, was shot with the IXUS 65 in my hotelroom in the Westin (former Argent) after your talk at the MacWorld conference. I followed your instructions on night shots."
"Here is how I actually did it:"
I used my office chair which I rolled to the window.
The camera was positioned on the armrest of the chair. I adjusted the camera so that it didn´t look in a right angle to the window (I think that is better for focusing).
I set the camera in manual mode, the ISO to 80, flash off and the self timer to 10 seconds. 2 seconds didn´t work because the chair was still vibrating after 2 seconds.
All the lights in the room were turned off.
"Fortunately, the Argent has floor to ceiling windows."
Hans camera was set to: ISO 80, f-2.8 with a 1 second exposure. Thanks Hans for sharing your work and your ingenuity!

Events! See the TDS Event Calendar for photography workshops, speaking engagements, and trade show appearances.
---
Technorati Tags: digital photography, Digital Photography Companion, technique, Technology, The Digital Story, How I Did It