Shooting from a helicopter is tricky business. You have to photograph through glass that is often curved and full of reflections. Unlike with other through-glass shooting, you can't put your camera lens up against the surface because of the rotor vibration while flying. I was dealing with all of these factors while capturing this image of Hoover Dam with Lake Mead in the background at the Arizona/Nevada border in Southwestern USA.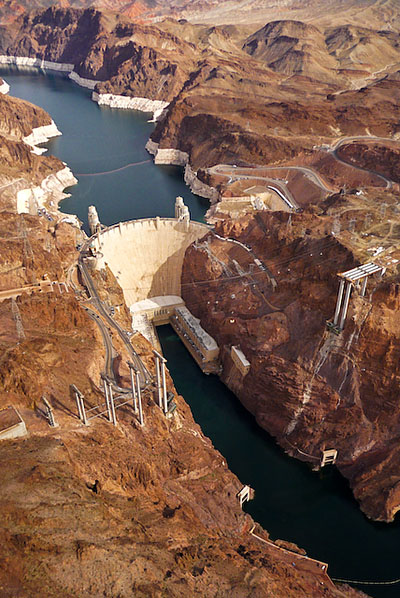 So here's how I did it. I used a Panasonic LUMIX TZ5 (just announced at PMA) in aerial scene mode. What that does (and what you can do on your own) is activate image stabilization and "warm up" the white balance to offset the coolness of shooting from above. I then looked for a patch of clean glass and held the camera as close to it as possible without touching it. I watched the reflections as the pilot maneuvered, and shot when the reflections weren't apparent.
You can increase your odds of success by wearing dark clothing (that doesn't reflect in the glass as much) and bringing a polarizer filter. Both help minimize reflections in the glass. If you're using a compact, bring one that has as wide a focal length as possible. The TZ5 goes to 28 mm, which helped considerably for capturing big scenes.
Photo of Lake Mead and Hoover Dam by Derrick Story using Panasonic TZ5, 1/320th at f-3.3, ISO 100, using aerial scene mode.
---
"How I Did It" is a new feature of The Digital Story featured on The Digital Photography Companion mini site. These are techniques from virtual camera club members who have built upon information in The Digital Photography Companion, or have come up with new tips altogether.
We're building a living library of knowledge for everyone to use (and contribute to). If you have a "How I Did It" tip to share, just send it to me with the sample photo, and put "How I Did It" in the email subject.
Technorati Tags: digital photography, Digital Photography Companion, technique, Technology, The Digital Story, How I Did It