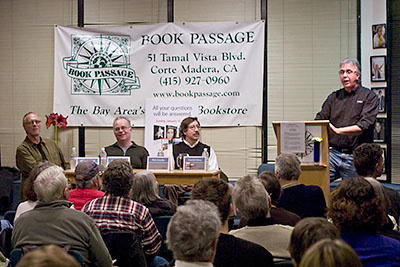 During Sunday night's panel discussion at Book Passage in Corte Madera, and then during the first day of the Aperture workshop at Macworld SF, Raw was still the most popular topic among attendees.
I imagine we're in for more Raw discussion at Wednesday's Apple Store event (in San Francisco) that features Mikkel Aaland, Harold Davis, Rick Smolan, and myself. (directions and details here.) The talk starts at 4:30 pm.
The crux of what many want to know is why they should shoot Raw, what are its advantages, and how best to process the files? I'm happy about the interest because I think Raw provides some nice options for photographers, including:
Ability to recover highlights and shadows better than with Jpegs.
Option to change white balance with no quality penalty.
More data to work with overall for high quality conversions.
I hope to keep the conversation going on Wednesday night at the Apple store.
Photo by Colleen Wheeler take with Canon 5D with a 50mm f-1.8 lens.

Events! See the TDS Event Calendar for photography workshops, speaking engagements, and trade show appearances.
---
Technorati Tags: Adobe Camera Raw, digital photography, Technology, The Digital Story