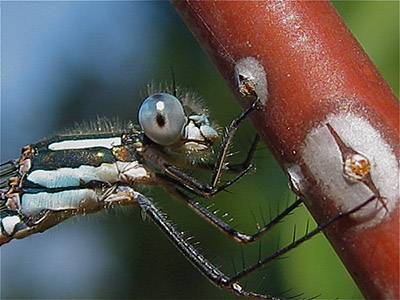 "I thoroughly enjoy capturing insects, spiders and other creepy crawlies on my little pocket-sized Canon Ixus 800 IS camera," says Ruth Cooper. "It goes everywhere with me, since I never know when I'll find something interesting to capture."
"I usually wear clothing that blends into the garden surroundings, and an old blue cloth hat that shades me and my glasses."
"The sound on the camera has been turned off, and I almost always have the camera on the Digital Macro setting, which still gives me automatic focus on the subject. I also try to stand either in the shade, or so that my silver camera and lens don't glint in the sun and disturb the insects I'm pursuing. I don't use any extra photographic gear -- no tripod, light diffuser, remote release, macro lens, etc. (The insects wouldn't wait around for me to set up, and a bigger camera with its attachments would be too heavy for my arthritic hands to hold.) Under these circumstances the camera's image stabilizer is a real blessing."
"On the afternoon, I discovered this damselfly on my cherry tree, it was very windy, but this was to my advantage, because he was hanging onto the branch for dear life, or he'd have found himself in the next suburb! (So don't be dissuaded by those who say you can only photograph bugs on still days!)"
"I approached the damselfly quietly and slowly, with no sudden movements. I started shooting from a slight distance, and gradually eased closer, and increased the depth of the macro setting. The wind was blowing the twiggy branches around, and I had to wait for a lull in between wind gusts to get each shot."
"After a few minutes the damselfly ignored the camera and me, and I was able to manoeuvre the camera to capture the close-up of his eyes, head, and his whiskers!"
For this intimate insect shot, Ruth set her Canon IXUS 800 camera to Digital Macro at 3.4X. Wow!
Photo of Damselfly on a Cherry Tree by Ruth Cooper.
---
"How I Did It" is a new feature of The Digital Story featured on The Digital Photography Companion mini site. These are techniques from virtual camera club members who have built upon information in The Digital Photography Companion, or have come up with new tips altogether.
We're building a living library of knowledge for everyone to use (and contribute to). If you have a "How I Did It" tip to share, just send it to me with the sample photo, and put "How I Did It" in the email subject.
Technorati Tags: digital photography, Digital Photography Companion, technique, Technology, The Digital Story, How I Did It