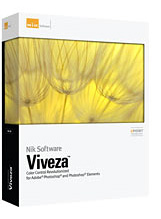 I've never been a fan of creating layer masks in Photoshop to adjust specific areas of color and tone. It's a lot of work. Nik Software has come to the rescue with Viveza, a plug-in for Photoshop and Photoshop Elements (Mac and PC) that allows photographers to use U Point technology to adjust their images. This is the same technology Nik employs in Capture NX. And it is incredible.
Basically, you just click on a color that you want to adjust and a U Point tool appears with brightness, contrast, and saturation sliders. If you move any of those sliders, Viveza modifies all of those specific colors in the photograph. If there's an area you don't want affected, just click on it and it's protected from the adjustment. You can watch a short tutorial on Nik's web site.
This plug-in is not cheap. It's going to list for $250 US when it's released in April. But it is truly amazing and will save hours of image editing time. I'll get my hands on a version as soon as its available, and I'll post another report.
Technorati Tags: digital photography, Photoshop Elements 6, software, Technology, The Digital Story, Viveza