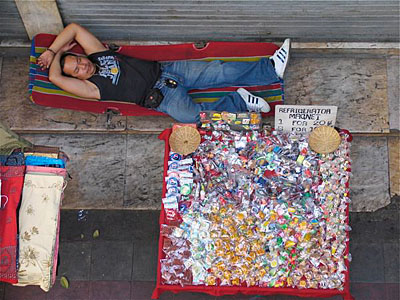 "This pavement stallkeeper in Bangkok Thailand was not quite ready for customers when I spotted him from an elevated pedestrian walkway," said Steve Cooper. "In the busy evening traffic and with rapidly failing light, I had only a moment to catch him alone."
Steve used a Canon PowerShot Pro1 set to 1/40 at f-3.2 to catch the snoozing seller.
If you have a candid you'd like to share, take a look at our Submissions page, then send us your Grab Shot. We'll try to get it published for you on The Digital Story.
And you can view more images from our virtual camera club in the Member Photo Gallery.

Events! See the TDS Event Calendar for photography workshops, speaking engagements, and trade show appearances.
---
Technorati Tags: candid, grab shot, The Digital Story