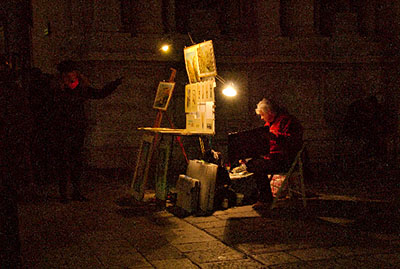 "I was walking around the beautiful city of Venice, and it was getting toward evening," said Howard A. Lewis. "I was losing the light and came across this square with the old man artist. A number of people were around, and I felt this would make a wonderful image. I had no tripod, so I knew that there would be some 'noise' in the image. But I thought it would look like a painting of the old man painting. I love the woman on the left pointing. When printed it looks exactly as I had anticipated. On canvas at 13"x19" matted and framed, it looks great."
Howard used a Nikon D200 with an 18-200mm zoom set to 38mm. He pushed the ISO up to 1600 to get an exposure of 1/20 at f-3.5 (wide open). He was in Aperture Priority mode.
If you have a candid you'd like to share, take a look at our Submissions page, then send us your Grab Shot. We'll try to get it published for you on The Digital Story.
And you can view more images from our virtual camera club in the Member Photo Gallery.

Events! See the TDS Event Calendar for photography workshops, speaking engagements, and trade show appearances.
---
Technorati Tags: candid, grab shot, The Digital Story