On first encounter, the Sony DSC-T200 is just too beautiful to be taken seriously. I was seduced by its slim design -- about the same proportions as an Apple iPhone -- with "folded" 5X Carl Zeiss Vario Tessar zoom lens, an 8 MP image sensor, and a 3.5" touchscreen LCD, all housed in a brushed metal housing that feels as good as it looks. There's no way this camera can perform as well as it looks.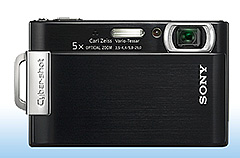 Field Test
I decided to take it out in the field and test its mettle (or test its metal in this case). Well, for starters, it just slid into my front pants pocket. Oh man, that was too easy. But, when I got in the field, I did encounter my first aggravation. The touch screen wasn't responding very well to my finger taps. "I just knew it," I muttered. Only to discover that there's a nifty stylus that attaches to the very nice wrist strap, and it totally solves the problem.
In bright light, the LCD was a bit hard to see. And there is no optical viewfinder. So this is a legitimate complaint about the camera. However, the screen is quite viewable in all but the harshest of light.
When you slide down the front cover to reveal the 5X Zeiss lens, the camera fires up quickly. In fact, overall response time, including shutter lag, is fantastic, especially for a compact of this size. Oh, and that lens: sharp.
Improved Menus
Sony's menu system has really come a long way. I once not cared for their approach, but now I like em. If you get lost, just hit the Home button in the upper left corner. From there, you can access submenus for: Shooting, View Images, Output, Memory Tool, and Settings. It took me about 15 minutes to get the hang of this. To make things even easier, the Display had three modes: Normal (lots of controls), Simple (just a few basic controls), and Image Only. When you're in Normal mode, it seems like there's an icon for just about any control you would need. Oh, and there's a button to turn off and on the live histogram. Very nice.
Good Technology
The T200 includes all of the current technology you would want: Face Detection, image stabilization, full frame SD movies at 30fps, and an nice array of scene modes. The macro mode is terrific on this camera, and what really impressed me, is that I could use the flash when only inches away from the subject and still get a great exposure. And if I didn't like it, there's a nifty pair of flash exposure buttons to increase or decrease it a tad.
As for the pictures themselves... very good for a compact. All the normal rules of the road apply: keep the ISO down to 400 or below and you're in great shape. The movies were solid too. The prints I made from the T200 were sharp with good color.
Pros and Cons
There are a couple things I don't like about this camera. I'm not a fan of Memory Sticks, but that's what you have to use with Sonys. The camera has an accessory HD cable for viewing your still photos on an HDTV, which is cool, but the camera doesn't include an HD movie mode, or even a 16:9 movie capture. Seems like a missed opportunity. And for an 8 MP compact, the DSC-T200 seems expensive at $350 US.
But the pros are strong indeed: beautiful design, great lens, big LCD, sharp pictures, easy controls, latest technology, and very easy to carry around.
I really didn't want to like this camera. I was planning to use it for a while, then sell it to recoup my investment. But darn, if I didn't really get attached to it. I just couldn't help myself.
Sample Pictures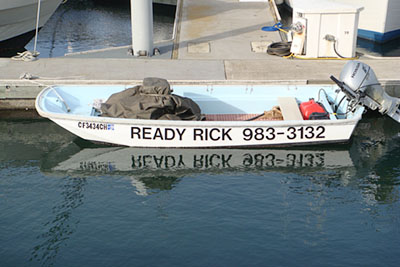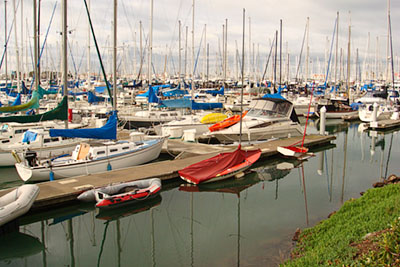 For the second shot, I turned on the "Flash" WB to warm up the scene.
Technorati Tags: product review, Technology, The Digital Story, Sony DSC-T200