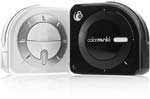 We heard about the ColorMunki Photo ($449 on Amazon.com) earlier this year at PMA. But now that the real product is shipping, the reviews are starting to surface.
Over at PhotographyBLOG, they write:
"ColorMunki Photo is a brand new colour management device that makers X-Rite are touting as a "breakthrough product". What's the reason for all the excitement? Namely price - ColorMunki Photo offers monitor, projector, and printer profiling at the previously unheard of price of $499 / £379 / 429 Euros, seemingly without cutting any corners. Our colour management expert Jon Canfield has been testing the ColorMunki for the last few months - find out if it meets all those high expectations in our latest review..."
I can tell you right now, Jon likes it. And so do others I've talked to. If you've been waiting for the next big thing in color management, this might be it. The name is funny, but the results seem quite serious.
Technorati Tags: digital photography, ICC Profiles, Technology, The Digital Story