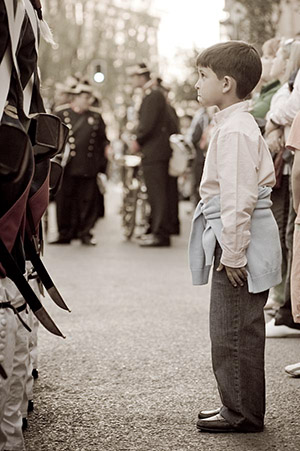 "On May 2nd 2008, Madrid was celebrating the bicentennial of Spain's independence gained over Napoleon's troops, thanks to the bravery of fearless insurgents once painted by Goya," wrote Michel Bricteux.
"Although I set out with the idea of covering the military parade, I decided to look backstage for the unexpected, more intimate detail. And there was this little boy, standing at the back of a platoon, dreaming about being part of an invincible army."
Michael captured this wonderful candid with a Nikon D3 - Nikkor 80-200 f/2:8 @ 80mm - f/3:5 - 1/200sec - 400 ISO - NEF format processed with Lightroom 2.0 Beta - Preset: Creative aged photo + Fill light + Highlight recovery + some vignetting.
If you have a candid you'd like to share, take a look at our Submissions page, then send us your Grab Shot. We'll try to get it published for you on The Digital Story.
And you can view more images from our virtual camera club in the Member Photo Gallery.

Events! See the TDS Event Calendar for photography workshops, speaking engagements, and trade show appearances.
---
Technorati Tags: candid, digital photography, technique, Technology, The Digital Story