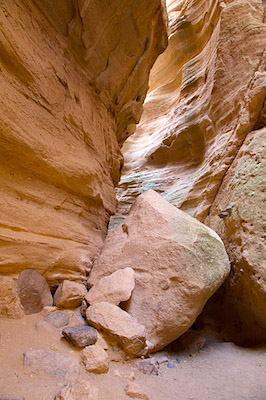 I took our class from Santa Fe Workshops to the Tent Rocks National Monument yesterday morning to capture some good content for our work in Photoshop and Lightroom. It's a terrific location with a variety of rock formations including a slot canyon.
For this shot, I mounted the Canon 5D with the 24-105mm L lens on a tripod, and shot in Aperture Priority mode so I could stop down to f-11. I wanted to keep the ISO at 100, so I needed the tripod for the long 1/2 second exposure.
In a few minutes, I'll pack up to go to a local marketplace so we can get some people shots and local color...
Technorati Tags: Derrick Story, digital photography, Santa Fe Workshops, Technology, The Digital Story