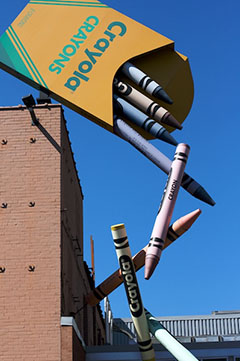 "Took my family to the Crayola Musuem in Easton PA," said TDS member Jim Stocking. "I always try to take pictures of signs to identify in a slideshow where a group of pictures were taken."
"The museum has this interesting sign, which I thought would be a candidate for grab shots after I saw the result. The Crayola Museum features a number of hands-on activities with Crayola products along with great activities for children and a demonstration of how the crayons are made."
"I took the picture from the second floor of the parking garage across the street, to flatten the angle looking up at the sign. I used my Canon Rebel XTi with the Canon f/1.4 50 mm lens. Considering that most of the days pictures were to be taken inside, I gave myself the assignment to film the whole day with just the 50mm lens. In this case, I had to crop down on the sign because I could not zoom out to take in the full display. However, I think the tighter shot heighens the sense that the box of crayons is tumbling out from the sky."
If you have a candid you'd like to share, take a look at our Submissions page, then send us your Grab Shot. We'll try to get it published for you on The Digital Story.
And you can view more images from our virtual camera club in the Member Photo Gallery.

Events! See the TDS Event Calendar for photography workshops, speaking engagements, and trade show appearances.
---
Technorati Tags: candid, digital photography, technique, Technology, The Digital Story