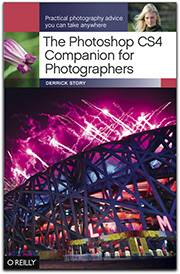 I just got word that a limited batch of The Photoshop CS4 Companion for Photographers will be delivered to PhotoPlus Expo. That means visitors to the O'Reilly Media booth will be able get a first look at the CS4 guide written specifically for photographers. It will also my first look at the printed version of the book.
If you're coming to PhotoPlus Expo, then be sure to stop by the O'Reilly booth for a peek.

Events! See the TDS Event Calendar for photography workshops, speaking engagements, and trade show appearances.
---