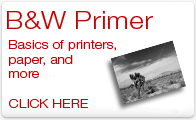 In my film days, I loved fine art B&W prints. I didn't necessarily like the process of producing the prints, particularly working with chemicals, but I did enjoy the final product. I'm in love again, this time making B&W prints via inkjets. The final product looks beautiful, but now I get to bypass the noxious chemicals and work at my desk. It really does feel like the best of both worlds.
This is the first installment of a series on B&W inkjet printing. Today, I have some great starter information to point you to, including recommendations for paper stock. Then, in upcoming installments, I put some of these practices to work on standard inkjet printers such as the Epson R2400.
B&W Printing Primer
As I mentioned in my podcasts, I've been working with Red River Paper, a faithful sponsor of The Digital Story. They recently published an excellent Primer on B&W Printing that covers printers, papers, software, ink, and lots of resources. It's perfect for getting started in this endeavor.
Paper Options
The type of paper you put your image on has a big influence on how it will look. Here's a good paper selection overview for B&W printing that will help you make the right choice for the effect you want to achieve.
A Word About Software
I always start with a color image, usually one that was captured in Raw, then convert a version of it to B&W. This allows me to record all of the information the camera has to offer, and have complete control over the grayscale conversion.
I prefer to work with software that allows me to make virtual copies of the color image. This enables me to try different techniques without cluttering up my hard drive with multiple copies of an image. Aperture and Lightroom both have this ability, plus they both have terrific tools for converting to monochrome and fine tuning the image.
Get Your Tools Together
If you're interested in B&W printing, then read the primer, get your printing supplies together, and decide which software you want to use to manage the project. Then stay tuned for more information here on producing great B&W images from your inkjet. If you have immediate questions or comments, feel free to post them at the end of this article.
---
-
---
Sponsor Note
Red River Paper -- Try the $7.99 Sample Kit.
Technorati Tags: digital photography, The Digital Story, B&W