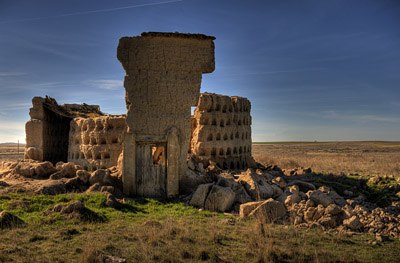 "This is a picture of an abandoned pigeon house taken in Otero de Sariegos, a ghost village located in the vast plains of Castilla, Spain," writes virtual camera club member Michel Bricteux. "It's actually composed of seven pictures bracketed at -2EV,-1 1/3EV, -2/3EV, 0EV, +2/3EV, +1 1/3EV, +2EV. Camera settings were ISO 400, 24mm focal length, f/7.1, 1/1000sec, with a Nikon D3 and a Nikkor 24-70mm f/2.8 zoom lens."
"For the HDR post-processing, I used Photomatix Pro. It allowed me to keep details and texture in the highlights (mainly the sky) and deep shadows, giving this picture its intensity."
Photo by Michel Bricteux
If you're interested in HDR, you might want to check out this tutorial, How to Create High Dynamic Range images using Photomatix. It provides a good foundation and includes handy tips.
---
-
---
Join me on March 28 for "How I Did It" - A Workshop in High-Impact Photography
---
Technorati Tags: Derrick Story, digital photography, technique, Technology, The Digital Story, HDR