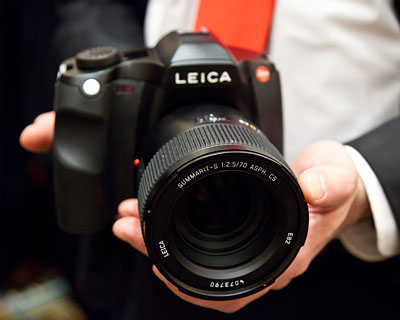 The Sneak Peek at PMA was bustling with journalists from the minute the doors opened at noon. Oh sure, lots of food and drink had something to do with it. But lots of vendors displaying their best products with folks to answer questions was also a big draw. My favorite (in my dreams) innovation of the day was the latest edition to the Leica S System, the new Leica S2 Digital SLR.
Beautifully crafted, this camera sports a 37.5 megapixel, 30 x 45 mm sensor built into a body that wasn't much bigger than a Canon 5D Mark ll. (See image below for the side by side comparison.)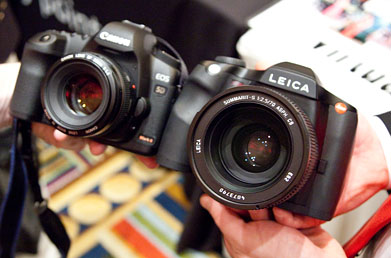 The Leica S2 features a dual shutter system with focal-plane for fast lenses and in-lens leaf shutter for high flash sync speeds, DNG capture that can be processed with Photoshop, precision autofocus system, and four interchangeable lenses.
Bottom line, it feels like a digital SLR but produces medium format images. If you feel yourself getting excited about the prospects of owning one for yourself, this might cool you off a bit. Rumor is that the body will sell for around $40,000 when released later this year. Oh well, at least I got to hold it.
---
-
---
Technorati Tags: Derrick Story, digital photography, Technology, The Digital Story, Leica S2