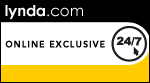 Facebook is a popular social network that many people use to share photos with friends and family. iPhoto shines at organizing and editing pictures. With its latest release, iPhoto '09, Apple built Facebook connectivity right into their consumer photography application. Now you can organize your images in iPhoto, then click a button and publish them on Facebook.
As you would imagine, there more to this partnership than initially meets the eye. In my latest Lynda.com title, iPhoto '09: 10 Things to Know About Facebook, I show you the 10 things you need to know to publish efficiently on Facebook with iPhoto. You'll learn:
Connecting iPhoto with your Facebook account
Making iPhoto Faces work with Facebook
Choosing and uploading iPhoto images
Learning more about Facebook photo albums
Making image edits to Facebook pictures via iPhoto
Making metadata changes to Facebook pictures via iPhoto
Downloading Facebook changes to your iPhoto library
Downloading existing Facebook photo albums to iPhoto
Searching for photos on Facebook
Things to be wary of on Facebook
You can learn more by visiting the iPhoto '09: 10 Things to Know About Facebook home page.
---
-
---
Technorati Tags: Derrick Story, digital photography, technique, Technology, Facebook, iPhoto ,09