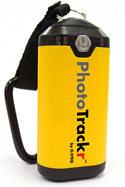 Here's a nifty article about four tools that capture location data while you shoot. All of these devices cost less than $200, yet provide decent geotagging. In the piece, Geotag your photos on-the-go, I cover the Nikon P6000 camera, Eye-Fi Explore, the PhotoTrackr, and the photoGPS. It's a quick read with a good overview of these devices.
See My Other Posts on Geotagging
"Introduction to Geotagging" - Digital Photography Podcast 165
Testing the Eye-Fi Explore Card at Home
Geotagging a Journey with photoGPS, iPhoto, and Flickr
iPhoto '09 as Your Geotagging Tool?
First Look at Jobo photoGPS Device and Software
Update to Geotagging Workflow, Including Jobo photoGPS
Finding a Reasonable Geotagging Workflow
---
-
---
Technorati Tags: digital photography, Eye-Fi Explore, geotagging, Jobo photoGPS, Technology, The Digital Story